Habitat Stewardship Program for Species at Risk
2013 – 14 DCA Project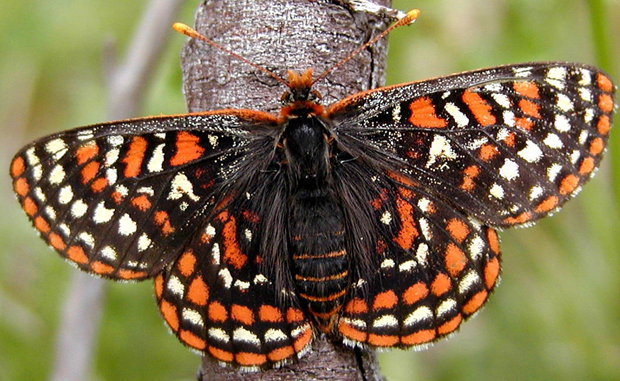 Loss of habitat due to regrowth of forest and encroachment of such invasive species as broom has contributed to the decline of endangered (COSEWIC) Taylor's Checkerspot butterflies on Denman Island, the only known breeding location in Canada. This project established five areas of suitable habitat to be reserved and maintained as Taylors Checkerspot habitat. Funding was used for outreach to the local community, survey and selection of Reserve areas, development of best management practices and restoration of habitat.
Five habitat preserves for the Taylor's Checkerspot butterfly have been established on private land on Denman Island. These reserves will also benefit other target species that inhabit those and adjacent areas. Habitat restoration and enhancement techniques developed for the Taylor's Checkerspot in the States of Washington and Oregon over the past 15 years have been documented and analyzed for their application to Denman Island circumstances. The resulting Best Practices document (see below for download) will be a valuable resource for the other components of the recovery strategy for this species, including the Captive Rearing program (where selection of release sites is a significant issue) and the Province of BC's Taylor's Checkerspot butterfly 10 hectare Reserve, in Denman Island Park, where restoration and enhancement has started.
The true measure of effectiveness of the project will only be available in future years. At this point it is unclear whether the recent decline in populations is due to habitat changes or other factors such as climate change.
Checkerspot Stewardship Guide HSP 2014 (3.4 Megabytes  – pdf)
A Butterfly Reserve has also been established on the DCA owned Settlement Lands. see Settlement Lands

photo: J Balke