Bliss and statistics, Tour highlights at Canadian Gardening, Afterparty smiles, celebrating cycling, thanks to all.

The 2013 Denman Island Home & Garden Tour was a huge success by any measure!
In the words of one visitor as the weekend wound up, "It feels as if the whole island is under a spell of enchantment cast by this incredible celebration of beauty, art, and nature."
Or as another tour go-er put it, more colloquially, "I'm blissed out!"
We love to hear comments like that, but we also appreciate more concrete signs of success. For this, we have statistics:
over 1500 people attended the tour, one of the highest rates of attendance ever for this event

over 200 people volunteered to make it all happen – 20% of Denman's total population

$17,000 was raised to help protect and manage our Island's natural habitat

a further $2300 was raised for the school garden, and $2400 for the Denman Seniors' Centre
The Denman Conservancy Association says a big, heartfelt, thank-you to everyone who attended our event!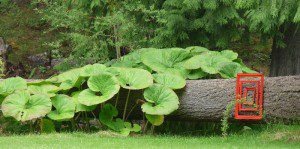 Where the Money Goes
Over the years, the Denman Island Home & Garden Tour has raised over $300,000 for the Denman Conservancy Association. With the help of these funds, over 800 acres of land have been protected – sensitive ecosystems, forests, wetlands, wildlife habitat, and parkland that is enjoyed by walkers, cyclists, equestrians, bird-watchers and more.
Denman Island is one of the few places where visitors can experience the quiet grandeur of an original forest in The Coastal Douglas fir (CDF) biogeoclimatic zone. Less than 1% of the CDF zone remains in its natural state, and of that 1%, only a small fraction is protected.
The Joy of Cycling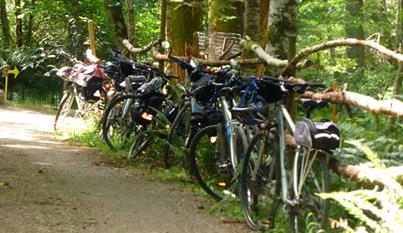 We were thrilled to see plenty of bicycles on our roads. 108 people entered our free draw for cyclists, and we offer congratulations to Ottmar Krauss, who won the grand prize.
THANKS GO TO…
…the incredibly talented and generous gardeners and homeowners who graciously welcomed up to 800 people per day to their properties – you are amazing!!!
…Business Sponsors: Kingfisher Inn, Sun Coast Waste Services, Union Bay Credit Union, Denman Island Chocolate, Scotia Bank, Edible Island, Livingroom Pharmacy, Atlas Cafe, Eyes on BC
…cycle draw donors: Mountain City Cycles, Denman Island Chocolates, Mountain Equipment Coop, Barb Mortell, organic teas from the Earth Club Factory, Rose Pedal Jewelry, Hedd Wynn Oil of Oregano, and the Denman Island General Store.
…DenmanWORKS for generous funding
…Denman Island media (the Flagstone and Grapevine) for wonderful coverage of this event and for generally being awesome
…ticket outlets: Abraxas Books, The Denman Craft Shop, The Denman Island General Store, Salish Sea Market, Apple Seed Cottage, Blue Heron Books, Art Knapp Garden Centre, Home & Garden Gate, Rusty Rooster, Volume One Books, Hornby Gas Bar, Cultivate Garden and Gift, Ken Dor Garden Centre, Arrowsmith Garden, Long Lake Nursery, Dig This
…BC Ferries staff for service above and beyond the call of duty
…200+ community volunteers
…and anyone we left out!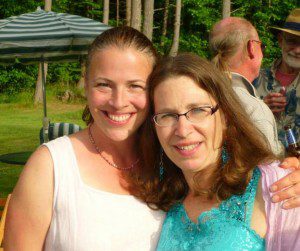 Celebrating After the Tour
Tour Coordinator extraordinaire Autumn White and Media Coordinator Laura Busheikin share smiles at the Sunday evening afterparty, one of the great traditions of the Denman Home & Garden Tour.
Special thanks to this year's hosts Cindy and David Critchley, for graciously welcoming 100+ tired-but-happy guests at their gorgeous waterfront home.
Highlights Featured on Canadian Gardening Website! 
Click here for gorgeous photos and text that capture the unique qualities of this tour.