Denman Stewardship Project 1997 – 1999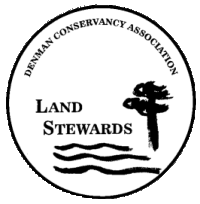 The first Denman Stewardship Project was a landowner contact stewardship program which worked to encourage landowners to preserve valuable natural areas on private lands. The project was active on Denman Island, British Columbia's northernmost Gulf Island, from June 1997 to March 1999. Project activities included landowner contact, site visits, preparation of stewardship plans for each property visited, wildlife monitoring, participation in community events and delivery of an extensive education program.
The objectives of the project were twofold. The primary objective of the project was to secure 600 ha (1482acres) of private land for protection by obtaining stewardship commitments from landowners. 600 ha represents 12% of Denman Island. The second objective was to involve land stewards in wildlife and habitat monitoring projects in order to assess stewardship's success in protecting wildlife habitat.
The project conducted site visits with the landowners of 114 properties resulting in the protection of 1157.99 acres of private land. Stewarded lands cover the island from its northernmost bay to the border of Boyle Point Provincial Park on Denman's southern tip. Denman Island's wetlands and salmon-bearing streams have been particularly well woven into the network of protected lands.See Table 1.
The Denman Stewardship Project also involved land stewards in wildlife monitoring in order to assess the success of stewardship in protecting wildlife habitat. In addition, the project worked with the provincial Urban Salmon Habitat Program to assess the habitat quality of two Denman streams. Data collection regarding Denman's two salmon-bearing streams, Beadnell Creek and Valens Brook was completed in Summer 1998. In February 1999, neighbourhood meetings were convened to discuss the findings regarding each of the creeks and to ascertain public willingness to resolve the problems identified.
The extensive education program implemented by the project increased awareness and appreciation of stewardship values. The project delivered 15 wildlife workshops and, in partnership with the Denman Island Community School, presented two summer science day camps for children and adults and sponsored a school based wetland program delivered by the Vancouver based Friends of Boundary Bay. The project also hosted a West Coast Environmental Law Research Foundation Conservation Covenants workshop in order to provide pertinent information to islanders interested in legally binding forms of land protection.
As a result of the Denman Stewardship Project, a network of stewarded lands was established across the entire island landscape. See map below. The project developed a sound foundation for the continued support and growth of stewardship on Denman. Landowners not only responded positively to site visits, stewardship plans and workshops but they were also enthusiastic about the development of stewardship neighbourhoods across the island.
TABLE 1

Ecosystem Components among Stewarded Properties

Ecosystem & elements
Number of Properties
Bluff
51
Rock Outcrop
39
Forest
98
Mature Second-Growth Trees
111
Old-Growth Trees
54
Large Snags
74
Meadow (Wildflower)
10
Sand Flats
1
Ocean Shoreline
28
Creek
13 on salmonid creek with Coho
9 on salmonid creek with Cutthroat Trout
71
Riperian Forest
51
Wet Meadow
5
Forested Marsh
36
Non-Forested Marsh
26
Open Water Marsh
15
Lake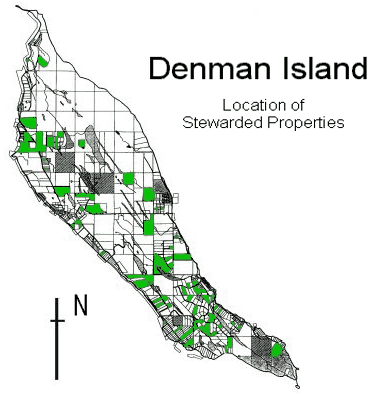 DENMAN ISLAND VOLUNTARY STEWARDSHIP PLEDGE
Denman's Stewardship Pledge is a commitment to the future – a commitment that broadens Denman's sense of community to include the natural world and the natural features that sustain all life.
As part of the Denman Stewardship Project, we pledge:
to respect the biological diversity of Denman Island by showing sensitivity to the wildlife and plant species that inhabit our property.
to recognize the vital role of clean fresh water and uncontaminated soil by working towards the conservation of water and soil on our land.
to sustain the stewardship plan we describe for our land by seeking the Project's advice when major changes are planned in the use of the land, and notifying the Project of any potential threats to the area (e.g. draining of wetlands).
to support the continuity of the Stewardship Project by informing subsequent owners of our property of the Stewardship Pledge. Specifically, on our land, we pledge to protect the natural features we describe in our stewardship plan.