Although small on a "protected area" scale, Winter Wren Wood has many ecological values. It links the adjacent blocks of Provincial Park lands to enclose Chickadee Lake in protected land. Although it does not border the open water of Chickadee Lake it protects a traditional access which has seen public use for many years. Row-boats and canoes can still be launched and picnics enjoyed.
For such a small area it contains many large old trees and is growing more all the time. There are interesting little marshy areas and it now boasts a short trail and raised walkway over a marshy area. The naturally-occurring biodiversity has made it ideal for school visits, a nature trail and workshop opportunities. Students from the local elementary school can bike there easily and it straddles a public road.
Conservancy started action to purchase the "Lake Road Property" in August of 2000. At that time we were deeply committed to raising funds for the larger land purchase on the east side of Chickadee Lake from 4064 and there was some hesitancy about taking on this project. However, the Board agreed it was worth the diversion for many reasons and on November 30, 2000 purchased the 6 acres for $85,000. The money raised came mostly from islanders in both large and small donations and we were able to pay cash. It was then named Winter Wren Wood.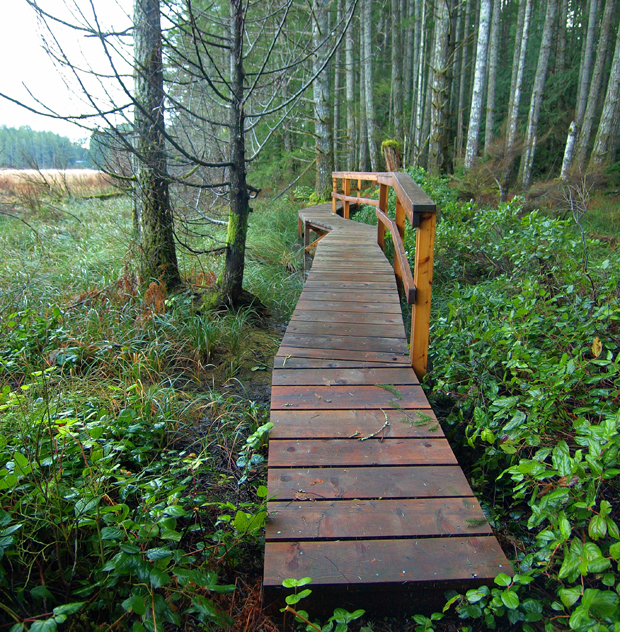 Conservancy has a Management Plan and Islands Trust Fund also holds a covenant on the property which they monitor yearly. A small local committee oversees its care particularly in summer fire season. Because of the public-use component, this is a tax-exempt property and it is open for public use of the walking trails.
Since 2000 Conservancy has acquired many larger properties and this one gave us some early lessons in ownership. It is also very accessible and invited use thereby putting Conservancy in the public eye.
photos by Andrew Fyson