The work of the Conservancy is managed by the Board of Directors. The Board has three main operating Committees:
LANDS Committee:
DCA owns and manages lands comprising three properties of total area 126.5 ha and also manages on behalf of Islands Trust Fund three Nature Reserves of total area 114 ha. This is accomplished with the assistance of a part-time Land Manager
DCA holds Conservation Covenants on eight properties of total area 207 ha, assisted by a part-time Covenant Coordinator
OUTREACH Committee:
Communicates with the Denman community by distributing Newsletters and maintaining this web site
Arranges Events such as Walks & Talks and a Scientific Speaker Series
Promotes Stewardship on Private land and especially stewardship programs to support the endangered Taylor's Checkerspot Butterfly
ADMINISTRATION Committee:
North Island College Bursary
The Denman Conservancy Association David Fraser Bursary was established in memory of one of the founding members of DCA.  This award is available each year to a Comox Valley campus student who is pursuing education and/or training in sciences, natural resources, conservation, environmental studies or community conservancy. The recipient must be a continuing student who has maintained satisfactory academic standing and have demonstrated financial need. Preference will be given to students who have previously demonstrated conservation achievement or involvement.
Recipients to date have been:
| | |
| --- | --- |
| 2004 | Mike Evans |
| 2005 | Sally Eaton |
| 2006 | Anh Tran |
| 2007 | Kita Navo |
| 2008 | Ciana Morrison |
| 2009 | Sarah Gervais |
| 2010 | Nicole Graham |
| 2011 | Sylva Wiedeman |
| 2012 | Stephanie Grover |
| 2013 | Miranda Kent |
| 2014 | James Pearson |
| 2015 | Erica Greenup |
Job Opportunities with DCA
are listed on the Contacts Page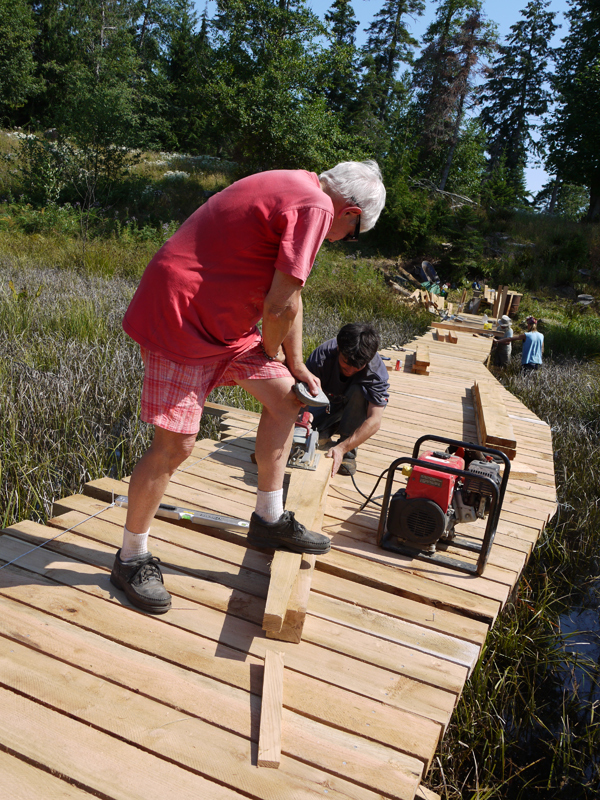 Building the Central Park Boardwalk.