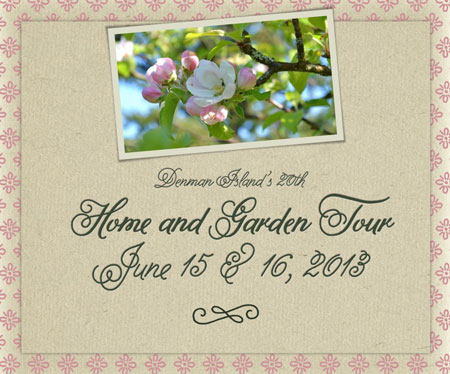 The next Denman Conservancy Home and Garden Tour will be held in 2015. Perhaps you missed this unique and inspiring Tour in 2013, long considered one of BC's top horticultural events. Every two years this tranquil island throws open its garden gates, inviting the public for a rare up-close look at the creativity, skill and passion Denman residents pour into their properties. The gardens are lush, magnificent and imaginative; the houses offer exquisite craftsmanship, with unique island touches. On the tour you can wander through profusions of blooms, stroll past quiet ponds and soothing waterfalls, and marvel at mature production gardens.
The 20th Home and Garden Tour showcased twelve fabulous properties, including that of Sandy Kennedy and renowned gardener and author, Des Kennedy.
All proceeds go to the Denman Conservancy Association, a Registered Charity which, with the support of this Tour, has protected over 700 acres of Denman Island.
For a retrospective on the highly successful 2013 Tour Click here.
For Des Kennedy's personal invitation to the 2013 Tour:

A collection of Home and Garden Tour pictures
Click on a picture to see a larger version
Whose gardens were on the Tour?
We had some spectacular new locations and some returning favorites in 2013. The Tour started from the Denman Island School garden, showing all the dedicated work done by staff, parents and student as well as their vision for the future. DICES provided the lunch as a fundraiser for the garden and were able to grow the required veggies on site. The Tour then headed along Lacon Road; listed in order of location on a loop from downtown were the following gardens:
-Tracy Horovatin and Shayne Barker,
-John Tallerino and Marc Randall of Dragonfly Knoll,
-Selinda and Mike White,
-Jayne -Anne O'Reilly,
-Leslie Dunsmore,
-Kathy and Mike Rapati,
-Linda and Glen Pollitt,
-David and Joan Scruton,
-Des and Sandy Kennedy,
-Yoshi and Susan-Marie Yoshihara,
-Liz and John Johnston of Oyster Beach Farm.