Why Bat Houses?
New baby-bat rearing-habitat is intended to help make up for the loss of big old trees, open old barns and outbuildings that have been disappearing on Denman.  Creating more space for bats to give birth and raise their young, assists bats AND helps with insect control!
DCA's Bat House Kits
25 Kits for the construction of bat houses were given to interested Denman Island residents and some completed houses were sold. These bat houses are being put up around the island and help from the Bat Project is available.  For Bat house plans for our 4-chamber bat house click FourChamberNurseryHousePlans
Also a video of how to put together the 4-chambered bat house is here 
If you are interested in buying a bat house contact di2017bats@gmail.com.
Alternative bat house designs can be found here .
Key Points to Bat House Installation
Location is critical!
Consider:
Solar Exposure
Surrounding Habitat
Mounting Technique
Obstacles to Flight
Protection from Bat Predators
Wasps
Timing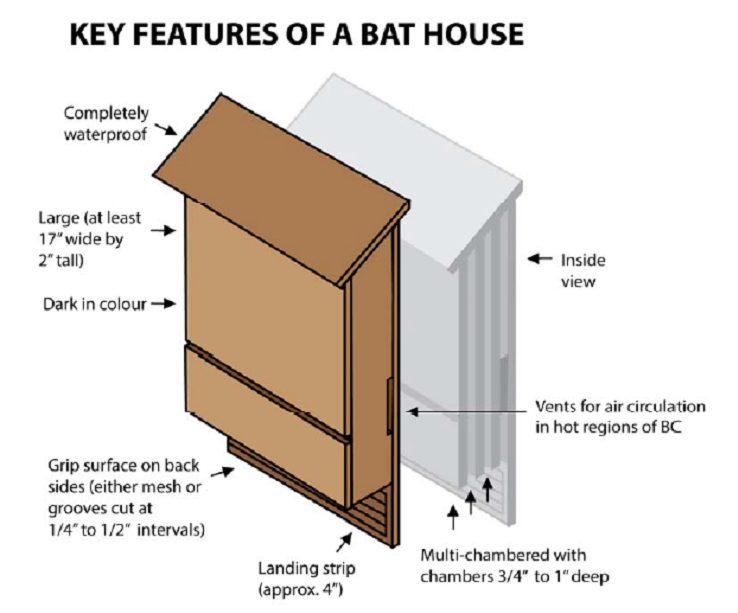 Craig. J. 2015. Building homes for bats. BC Community Bat Program. Access at www.bcbats.ca
South or southeast facing to ensure high solar exposure. Ideally bat-houses should receive a minimum of 10 hours of sun per day, and more is better. Try to find a position that will receive the morning sun and with no shade during the day. Also try to set up your bat-house out of the wind, if possible. Paint bat houses a dark colour to maximize heat absorption.
Near good drinking & dining – best less than 400m from good water source, in forest clearings, even fields.
As high as possible – best 65 m or12 ft. on poles or buildings. 2 large multi-chambered back to back houses are best. Avoid directly by bright lights.
Uncluttered approach to allow clear flight path, no branches or clutter for at least 5m.
At least 8m from nearest branches will decrease chance of cats, raccoons or other predators from dining on emerging bats.
Limit

chamber width to ¾"

to reduce wasp use & if necessary remove any old wasps nests between seasons.
Have house up by April, at least 2-6 weeks before hibernating bats arrive. Or well before an attempt to evict bats from elsewhere.
For more about Community Bat Programs of  BC :   http://www.bcbats.ca