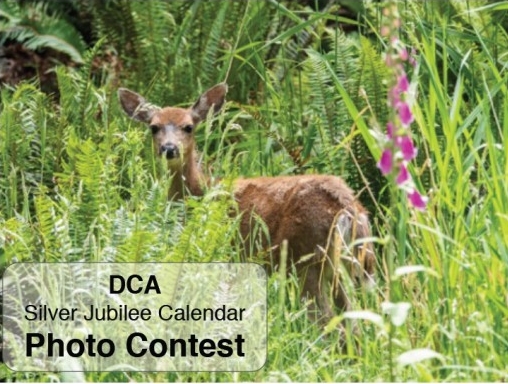 The Denman Conservancy Photo Contest is being held as part of the Denman Conservancy Silver Jubilee Celebrations. Contest photos were used in a gallery display where the public was asked to vote on the winning selections to be published in the Silver Jubilee Calendar. Calendars will be available to purchase in November 2015.
After completion of the voting at the Arts Centre, October 16 to 18, photos selected for the calendar were taken by:
Rebecca Apter, Jenny Balke, Mikell Callahan, Lucy Dabbs, Naomi Elliot, Sandy Fulton, Andrew Fyson, Linda Lin, Sylvie Marcil, John Millen, Barbara Shelly-Dyck, Paul Wullum, and Yoshi Yoshihara

The Silver Jubilee Calendars will go on sale mid-November at Abraxas Books, the Denman Craft Shop, the Denman Island General Store, the Denman Hardware and Emporium and will be sold at the Denman Christmas Craft Fair December 5th and 6th.
Contest timeline
First – gather pictures
August 1st – Sept 15 – Submit Photos (email carolincomox@gmail.com)
Sept 16 – Oct 1  – photos are shortlisted
Oct 16 – 17 – photos on exhibit/public vote
Winners are announced Oct 18
Contest Rules and Picture guidelines
By entering you agree to abide by all contest rules, and to have fun.
Photographs must relate to the theme Denman Conservancy – Something Special
Photographs must be digital, JPEG preferred, (no prints, slides or negatives, please) and horizontal in format.
      Digital photos must be no smaller than 3000 × 2400 pixels (3MB – 9MB email size)
      Pictures in calendar will be 8" x 10.5", so DSLR users should note that 4:3 aspect ratio will require the least amount of cropping
      Limit of 4 entries per person, 1 representing each season.
      Winners will receive photo credit in the calendar and a matted copy of their print.
      Entries accepted by email. All of the following information must be submitted with the email to which the photo is attached:
1          Your Name
2          Your phone number
3          A short explanation of how your photo relates to the theme.
If your photograph(s) include an identifiable person or people you must secure permission from each person to use their image in the contest/calendar and in the future by the conservancy. In the case of a minor you must receive permission from the minor and the minor's parent or guardian.
While the winning pictures will definitely be used in the 2016 Silver Jubilee calendar and the pictures used in the gallery show  will be available for purchase through a silent auction, other pictures may be cropped or resized to augment  main calendar pictures.
Email your photos to carolincomox@gmail.com or contact the same email to arrange drop off of a digital file.  Contest submission of photos closes Sept 15, 2015.
By entering the Contest, you grant The Denman Conservancy the non-exclusive right to publish, use, distribute, reproduce and publicly display your photographs, and to create modified or derivative works from your photographs, in perpetuity, in any of online, print or other media publications, materials or exhibitions, for purposes of promoting The Denman Conservancy's mission and awareness of its programs, including but not limited to editorial, advertising, publicity, and fundraising purposes, without payment of compensation but with potential award of a prize selected by DCA. You grant The Denman Conservancy permission to provide your name, and your city and province of residence, when publishing, reproducing or otherwise using your photo and when identifying you as an entrant or prize winner in the Contest. While The Denman Conservancy will make every effort to credit photographers when using photos, it has no obligation to do so.