Morrison Marsh Nature Reserve is a 52 hectare (128 acre) protected area on the southern portion of Denman Island, adjacent to Boyle Point Provincial Park. The Islands Trust Fund (ITF) works with the Denman Conservancy Association (DCA) to manage the property in order to protect its unique ecological values.
This property contains the southern headwaters of Morrison Marsh and Boyle Creek, as well as an extensive network of additional wetland areas, rocky outcrops and upland forest.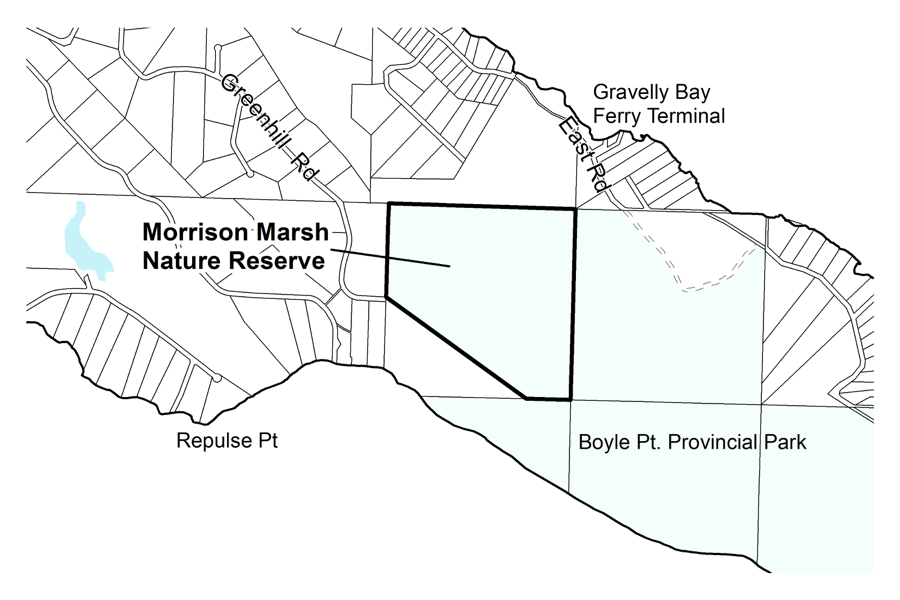 The management for the nature reserve focuses on protecting the natural values of the property. Development of any kind, including disturbance to native vegetation, soils, and water flow, is prohibited. The updated plan may support ongoing restoration activities such as removing non-native invasive species and enhancing habitat for protecting the native plants and animals.
Please consider completing this questionnaire about the ongoing management of Morrison Marsh Nature Reserve on the ITF website: http://www.islandstrustfund.bc.ca/survey.aspx
The original management plan was written in 2007 and it can be downloaded via the DCA website here (1.3 Mb pdf) or found on the ITF website.
There will be a Public Open House on January 27, 2018 at 10:00 am at the Old School (5901 Denman Road). Light refreshments will be provided, and a walk at the Nature Reserve will follow at 1:30 pm. This Open House will also be an opportunity for Islanders to provide feedback on the Winter Wren Wood Management Plan Review (check back for more details soon).
Many thanks for taking the time to consider the ongoing stewardship and management of this precious nature reserve.