Paula writes: Yesterday morning I finally joined one of Andrew Fyson's guided walks, something I had wanted to do for a long time. We went first to Fillongley, where we walked along the creek, then to Morning Beach.
From Morning Beach, as far as we could see in both directions, the shore was lined with eagles, just quietly waiting. The tide was at the bottom of the ebb, a big full-moon tide. More eagles sat in trees up the bank.
I wondered what was bringing them all here, but given the time of year I had formulated a hypothesis:
Plainfin Midshipman fishes come to spawn in the lower intertidal zone around this time of year. The males remain behind to guard the eggs. These fish are one of the main sources of food for our eagles during the nesting season.
I'm thinking that maybe the midshipmen arrived onto the northeast shore of Denman, but not yet everywhere, which would explain the convergence of eagles to the area. The date seems about right, around hatching time for eagle chicks.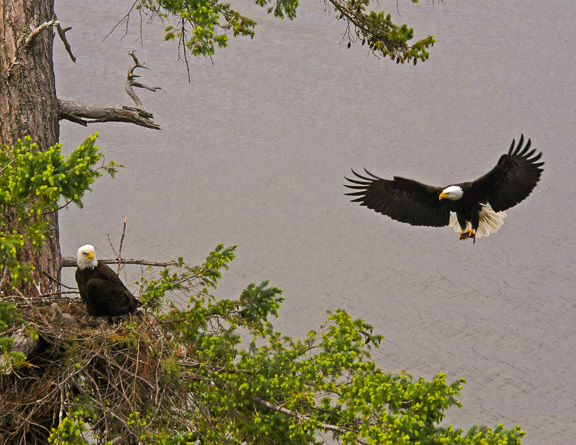 Dennis Forsyth writes:
Over the years I have observed that the eagles at Boyle Point sometimes would feed Midshipmen almost exclusively from mid-May to early June.  This shot is dated May 18, 2012.  There the male eagle would patiently wait in the perch tree until close to low tide and then begin multiple flights back and forth from Deep Bay bringing in a fish every 15 or 20 minutes until he had piled up six or seven of them on the edge of the nest.  The female would feed the chicks, then herself, and the male would usually keep the last fish he returned with to devour on his perch.  Dennis